Even though REALTORS® know Real Estate, there are still some sellers who try to do it on their own. If you are a "Do It Yourselfer", you may want to stick to weekend projects and draw the line at real estate. Whether buying or selling, even the most educated consumer can make some costly mistakes if they don't have a pro on their side.
Becoming a REALTOR® demands successfully completing a stringent educational program with a focus on both Residential and Commercial Real Estate, Real Property Law, and a variety of other topics related to Real Estate. Maintaining a license requires continued learning. Being successful in this business requires an up-to-the-minute knowledge of the market, the ability to look for the red flags that a novice may not even notice and the skill to put a transaction together from start to finish.
Oftentimes, For Sale By Owner properties are not priced appropriately, there is too much emotion involved when dealing directly with the seller and there is little accountability. A private seller may be able to get away with being evasive, but a REALTOR® has certain items that he or she must disclose. If you want to save a few bucks by learning how to install the back splash in your kitchen, by all means, go to Home Depot for a weekend class but, when it comes to one of the biggest investments of your life, you need a professional.
The founder of ForSalebyOwner.com realized that he did, too: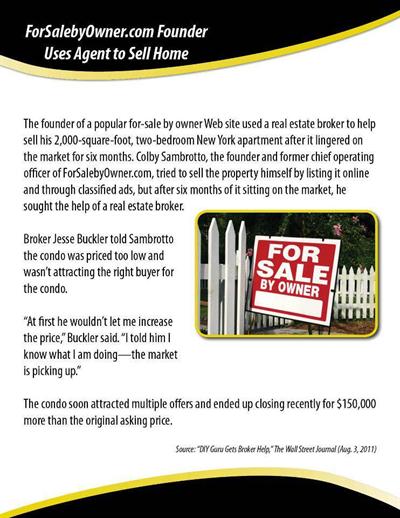 Quick Contact
Kim Fox
RE/MAX
4440 49th Avenue
Red Deer,
Alberta
T4N 3W6
Mobile:
(403) 506-7552
Fax:
(403) 343-3085
Email:
kim.fox@remax.net