As you may know we have some new mortgage changes coming down the pipeline January 1st. You should be aware of the 1st hand effects this is going to have on you as a buyer!
What are these changes?
Buyers with 20% or more will be qualifying at the same rates as those buyers with less than 20%. At either benchmark (currently 4.89%) OR contract rate plus 2% (so today's best conventional rate 3.14%+2%=5.14%!!)
***This is qualifying. Not the rate they will receive from the lender.
Who is going to be directly affected?
Buyers with 20% down payment or greater.
What is the outcome going to be?
The same as October 2016. Only these changes will now be across the board. Buying power will be reduced by up to 20% for ALL buyers, no exceptions.Example: If you have a buyer with 20% down, pre-approved for $350,000 today, come January 1st, that buyers pre-approved amount is going to be $300,000. Or how about $600,000, these guys go down to $515,000. 
***This is based on today rates, however if qualifying rates increase, the pre-approved amount January 1st is going to decrease. 
Below are a few links for easy reading to catch yourself up. 
Contact Robyn Darling for more information!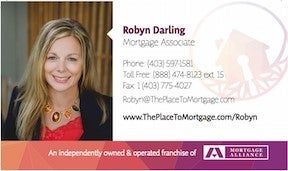 blog comments powered by

Disqus
Categories
Archives

Subscribe To This Blog