What you Need to Know When Buying a Vacation Property
Guest Blog by Brandi Pierik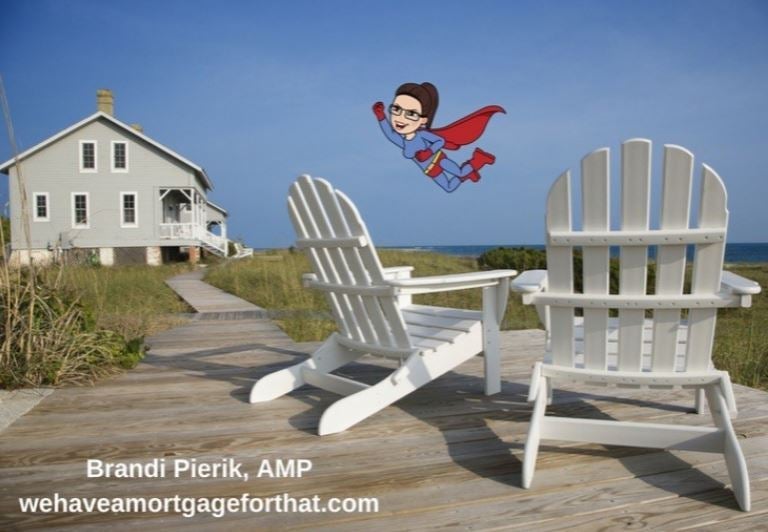 You've dreamed, saved and planned, and it's finally time to buy a cottage or vacation home! Now is a really good time. Although mortgage rates have risen slightly, they still remain on the low side and property prices have cooled somewhat. 

Whether you're planning to buy a waterfront retreat or a country getaway, a seasonal or year-round property, I can walk you through each step to securing financing for your second home.
Depending on the specifics of the property you plan to buy, you may be eligible to obtain financing for up to 95% of its value – as little as 5% down, which is the case for primary residences as well.

If the property's value is under $500,000, you can may be able to make a purchase for just 5% down. But, if you're buying a more expensive second home, you'll be required to pay 5% down up to $500,000, with an additional 10% down payment on the portion of the home value above $500,000.
Property type matters
Lenders don't view all vacation properties on a level playing field. In fact, many separate second homes into two categories: Those that can be accessed year-round and have a solid physical foundation; and those that aren't accessible or used year-round and have a weaker structure (eg, a year-round cottage versus a seasonal cabin in the woods). 

Lenders will often view the mortgage worthiness of a year-round vacation property in much the same way they would a primary residence. As such, you can choose between a fixed- or variable-rate mortgage at competitive rates, and the down payment will also be similar to a primary residence.

If you want to buy a seasonal vacation property, on the other hand, the interest rate will be higher and the lender will typically request a larger down payment. These more stringent requirements are based on the lender's view that seasonal properties can't be sold as easily as a more accessible and sturdy second home.
Financing options
Tapping into the equity built up in your primary residence is a great option for financing a cottage or vacation property. If you have enough equity available for a down payment on your second home, you can often access these funds through a refinance or a home equity line of credit (HELOC).

Benefits associated with using a HELOC to help finance your cottage or vacation home is that there is little or no set-up fee involved and you only pay interest on the portion of the HELOC that's used.

If your mortgage happens to be coming up for renewal, now would also be an ideal time to consider accessing some of your equity to purchase a second home, as there would be no extra fees since you wouldn't be breaking your current mortgage. You may even want to set extra funds aside at this time to prepare for maintenance, renovations or property taxes on your vacation property.

If you choose to refinance – break your mortgage early in order to access funds for your second home purchase – there are penalties for paying out an existing mortgage loan prior to renewal.
I can help you decide what works best for your particular situation. Answers to all your questions about your Red Deer Mortgage and Red Deer mortgage rates are just a call or email away!
Mortgage Broker
Dominion Lending Centres
403.588.8657
blog comments powered by

Disqus
Categories
Archives

Subscribe To This Blog